Vitaferol, a premium quality, 100% pure and highly bioavailable vitamin D supplement available on the Georgian market since 2016, has won the Golden Brand award to become the top such supplement in the country.
Vitaferol is imported and distributed in Georgia by pharmaceutical company ArtPharma, which has been operating on the Georgian market since 2014 and has over 80 international brands in its portfolio.
In this interview with Golden Brand Lika Lobzhanidze, founder and director of ArtPharma, talked about the history and performance of the company in Georgia.
Q. Please tell us how ArtPharma has been developing on the Georgian market?
A. One of the main prerequisites for the creation of ArtPharma was to increase access to high-quality European medicines and food supplements in Georgia.
When I decided to establish a company, I wanted it to be an outstanding one, which would create a new niche and determine the quality standard.
Innovativeness, novelty, quality ⁠— these are the main values based on which ArtPharma was founded in 2014 and continues to operate to this day.
The focus of ArtPharma's performance is on health and beauty.
One of the milestones in our initial success was the start of cooperation with Walmark, the leading and strongest international pharmaceutical company in Europe. With the help of our tireless work, today we have a lot of partners in Europe and America. Today our portfolio boasts over 80 brands.
Q. What was the first product that ArtPharma introduced to the Georgian market?
A. ArtPharma was the first company in Georgia to introduce nutricosmetics to the market and talk about the importance of taking care of one's health and beauty.
In 2015, we launched Viaderm, a very famous and globally in-demand brand of Walmark, which soon earned recognition in Georgia and gained the name of "Beauty Capsules". Viaderm is distinguished by its unique composition. It is a cosmetic in capsule form for healthy skin, hair and nails, and at the same time is an important food supplement for women's beauty and health. It contains furisula oil, zinc, copper and silicon. This combination is very rare, thanks to which Viaderm remains a unique product even after eight years. Viaderm is not only for improving external beauty, it is also good for metabolism, helping to regulate weight and having a positive effect on the activation of hormones in the female body, which they need to maintain their youth.
We play the role of mediator between the world's leading manufacturers and Georgian consumers, we create and establish a modern model of healthcare, we ensure that European, high-quality medicines and food supplements are available to all citizens throughout the country, which we achieve in cooperation with all pharmacy chains in Georgia.
Q. What is ArtPharma's contribution to the development of the Georgian pharmaceutical market?
A. Our main task is to promote a culture of care for health among the population, so we introduce brands that will help them to prevent various diseases and make treatment easier. We are empowering the pharmaceutical industry with brands that bring benefit to society.
For example, in 2023 we introduced Viruprotect, a preventative oral spray against colds and viruses, which acts quite fast on seasonal colds. This Swedish brand, with 12 years of experience, is represented in more than 30 countries on three continents, and bringing it to Georgia was an important step for us.
As for the introduction of Vitaferol, now the Golden Brand winner from the Artpharma portfolio, we actively promoted this critical vitamin to raise awareness. For this purpose we've had the strong support of partnering physicians and KOL. Finally, it can be said that collectively we were the first to lay the foundation for awareness of vitamin D deficiency in society.
Since 2021, international companies such as STADA group have joined the list of our partners. Currently, we cooperate with ten large manufacturers and represent more than eighty name brands.
Q. Please share some future plans of the company.
A. Next year ArtPharma will celebrate its tenth anniversary in Georgia, and we plan to introduce couple of new projects. The negotiations are already underway. We think that by the end of 2024 we will significantly increase and diversify our portfolio. ArtPharma aims to become an international brand, so we are planning to open branches in neighboring countries in the nearest future.
Lela Sikharulidze, Marketing Manager of the pharmaceutical company ArtParma, continued the interview by sharing her thoughts on Vitaferol's win at Golden Brand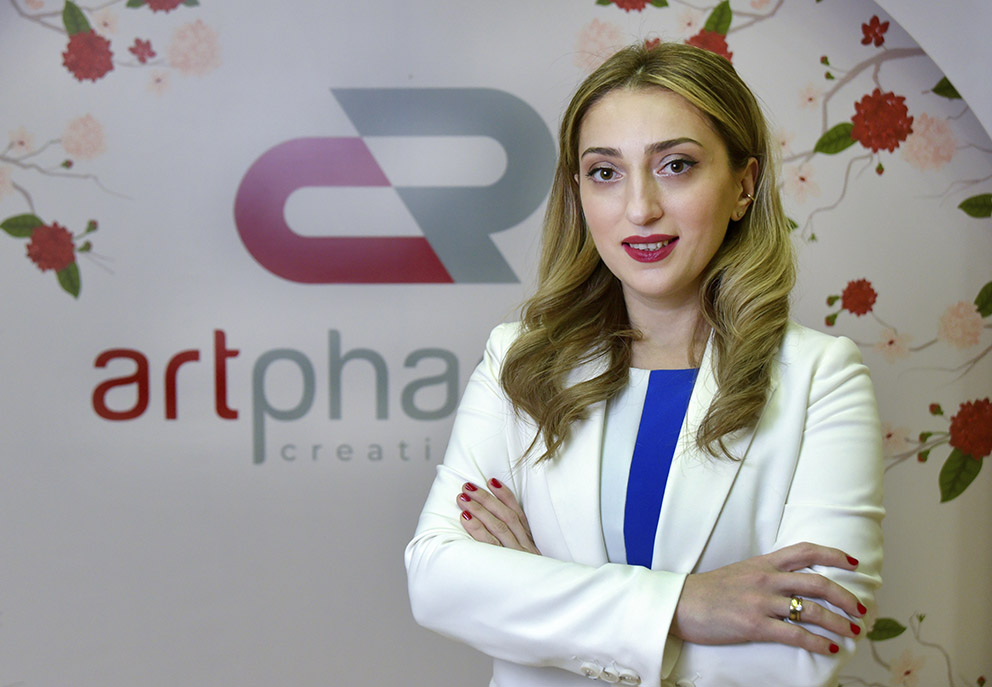 Lela Sikharulidze, Marketing Manager of the pharmaceutical company ArtParma, continued the interview by sharing her thoughts on Vitaferol's win at Golden Brand
Q. Vitaferol has become Georgian customers' favorite D vitamin supplement. How did the brand achieve this recognition in our country?
A. First of all, on behalf of the ArtPharma team, I would like to express my gratitude to the residents of our country, representatives of the medical field and industry experts, people who have been choosing Vitaferol as the most reliable vitamin D supplement for years.
This recognition is due to the European quality of Vitaferol, innovativeness, and the highest profile of effectiveness and safety. The ArtPharma team has also contributed to the prevention of vitamin D deficiency in Georgia while establishing international standards in the field.
Q. When was Vitaferol first introduced to the Georgian market?
A. Vitaferol was introduced to Georgia for the first time in December 2016 by the pharmaceutical company ArtPharma. In 2021, taking into account the high interest and activity of consumers, and on the basis of competitive market research, we introduced a new, innovative form of Vitaferol to Georgia ⁠— Vitaferol Mega D3, in the form of a new soft capsule. The new form of emulsified, pure vitamin D is gastro-resistant, which means that it is completely absorbed by the body very quickly and without loss.
Today Vitaferol is one of the most loved and in-demand vitamin D supplements in Georgia because of its reliability, safety and convenience ⁠— these are the qualities that connect consumers with the brand.
Q. What are other advantages of Vitaferol?
A. Other important advantages of Vitaferol is that our products are suitable for all members of a family, and considering that it is pure vitamin D without additives, it is recommended for long-term use.
Vitaferol Emulsion is the first European brand containing vitamin D in Georgia, offered by a certified dispenser, which allows accurate, individual determination of dose and protects from overdosing, which is especially important for infants.
To date, the Global Health Research Foundation has identified more than 1,000 chemical additives that pose serious health risks. Because vitamin D is recommended for long-term use, and harmful supplements have the ability to accumulate in the body, it is especially important to make sure there are no impurities in a vitamin D supplement.
Vitaferol is a brand containing 100% pure vitamin D, which does not contain sugar, gluten, flavorings or additives, making it safe for all demographics. Vitaferol is the only vitamin D supplement in Georgia recommended by the Neonatologists Association of Georgia.