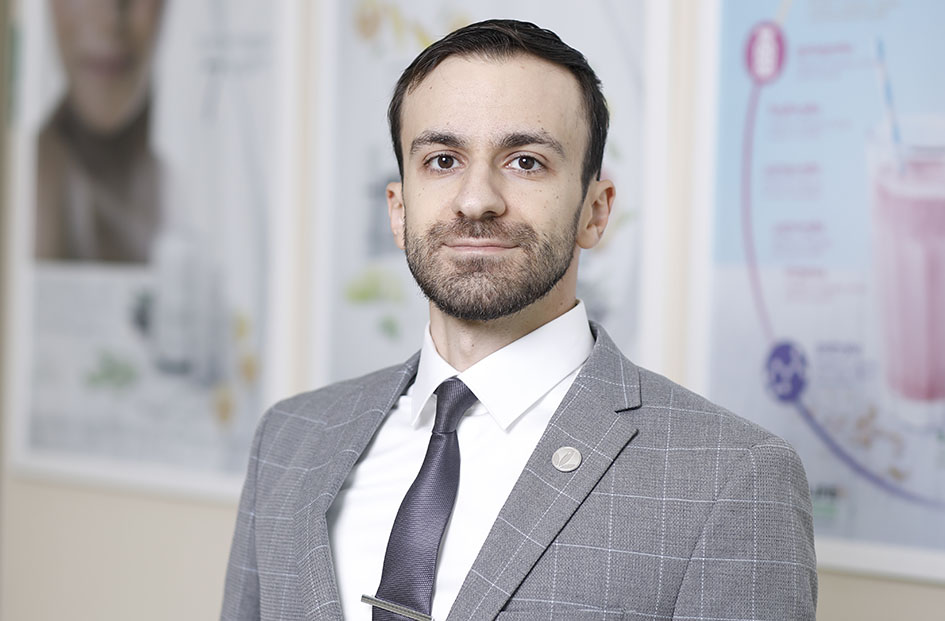 Herbalife Nutrition, a global company that has been changing people's lives with nutrition products in Georgia for more than ten years, continues to move forward and help people live a happy life by implementing various eco-initiatives and global sustainability projects in the country.
"Herbalife Nutrition is a global expert in balanced nutrition and healthy lifestyle, and our mission is to improve nutritional habits not only in Georgia, but globally," Senior Business Development Manager of Herbalife Nutrition, Irakli Chachanidze, said.
Herbalife Nutrition was founded in 1980, and products became available in Georgia in 2011. It is a leading global nutrition company, promoting an active and balanced lifestyle.
"We create great-tasting, science-backed nutritional products, such as meal replacement shakes, protein bars, food supplements, sports nutrition, etc. The most well-known product of our company is protein shake Formula 1 which is available in five flavors in Georgia," Chachanidze said.
There is a Herbalife Nutrition Sales Center in Tbilisi, where it is also possible to get in touch with "Independent Members" using a special QR-code or by filling out an application on herbalife.ge.
"All our products are available exclusively through Herbalife Nutrition IMs, who support their clients in achieving their wellness goals. So our Independent Members create and run their own business with company products," Chachanidze said.
Q. Please tell us about the first steps of Herbalife Nutrition on our national market. What path has the brand taken over the years and what position does it have on the market today?
A. Herbalife Nutrition has been officially operating in Georgia since 2011. We started with basic products and today there are several main categories presented on the market totaling more than thirty products, among which everyone can find something for their needs. And one more important point is that we give people the opportunity to becomeHerbalife Nutrition Independent Members . That means that they can run their own business with our nutrition products.
Q. Please tell us who the distributors of Herbalife Nutrition in Georgia are and what the advantage of cooperating with the company is?
A. The company employs over 10,000 people across the world, including 300 scientists, and sells products in over 90 countries. We think that a strong relationship between the company and its distributors is our core value, and that's quite important in Georgia too. The specific feature of our business model is that in addition to the product itself, the customer receives all necessary support. We help people improve their lives by changing their dietary habits. Our Independent Members assist customers in setting goals, providing personal advice, establishing an individual nutrition plan and monitoring its implementation, taking care of their motivation. This is the advantage of our model. This is our strength.
Every year more and more young people in Georgia join the Herbalife Nutrition business. Our Independent Members are people of different professions, and of course, we are open to everyone. Some are in it for some extra income, others have made it a career. Our 'distributor difference' means that consumers get tailored support to help motivate them to achieve their goals. This includes providing a community which many need to make lasting lifestyle changes.
Q. What about sustainability and CSR projects?
A. Of course, CSR projects are very important for our company and we have several important projects in this field, including environmental protection, eradicating hunger, promoting sustainable development, and promoting a healthy lifestyle. We are very proud that the company has established the Children's Charitable Foundation, which is represented all over the world and responds to the second goal of the UN Sustainable Development – "Zero Hunger". The fund aims to eradicate hunger, bolster food security and promote improved nutrition and sustainable agriculture.
Ecology and sustainable development of the environment are also important. Eco-standards are part of the company. For instance, we have a green concept in our office. We collect, process and recycle materials. Moreover, our company is focused on developing new product packaging that will be safe, functional and environmentally-friendly. The reduction of plastic waste is an integral part of the brand's innovative strategy. We are always improving our technologies and business processes to use less energy and resources to produce and deliver our products. As for recycling, last year we collected 47.2 kg of plastic waste with the help of our Independent Members. In 2022 they also took part in a very useful project by planting fifty trees near the Tbilisi Sea.
When it comes to healthy lifestyle and a balanced diet, of course it is important to support a variety of sports activities, which are mostly part of the charity. I'd like to mention the "Tbilisi Marathon", in which the company has participated since 2018, and finally we broke the record with the most representative team. It is our mission to support and set an example for people in every possible way to change their lifestyles for the better.
Q. Congratulations on winning the Golden Brand award. What led the brand to this success and what does this recognition mean for you?
A. Thank you! It is a great honor for us to accept the Golden Brand Award in the category of Balanced Nutrition. Our company has won many awards for its operations, its ESG activity, and its product quality, but it's a real pleasure for Herbalife Nutrition to receive such a significant award in Georgia for the first time.
The main element of this victory- it is of course the highest quality products and highest standards of service from our Independent Members. At the same time, for more than eleven years we have been operating in Georgia and have thousands of success stories from our clients. Such stories are the foundation of our company and give us motivation to continue development of Herbalife Nutrition on the Georgian market.
*Income and business opportunities applicable to the individuals (or examples) depicted and not average.
** Career growth means precisely the growth according to the Sales and Marketing plan of Herbalife Nutrition'.