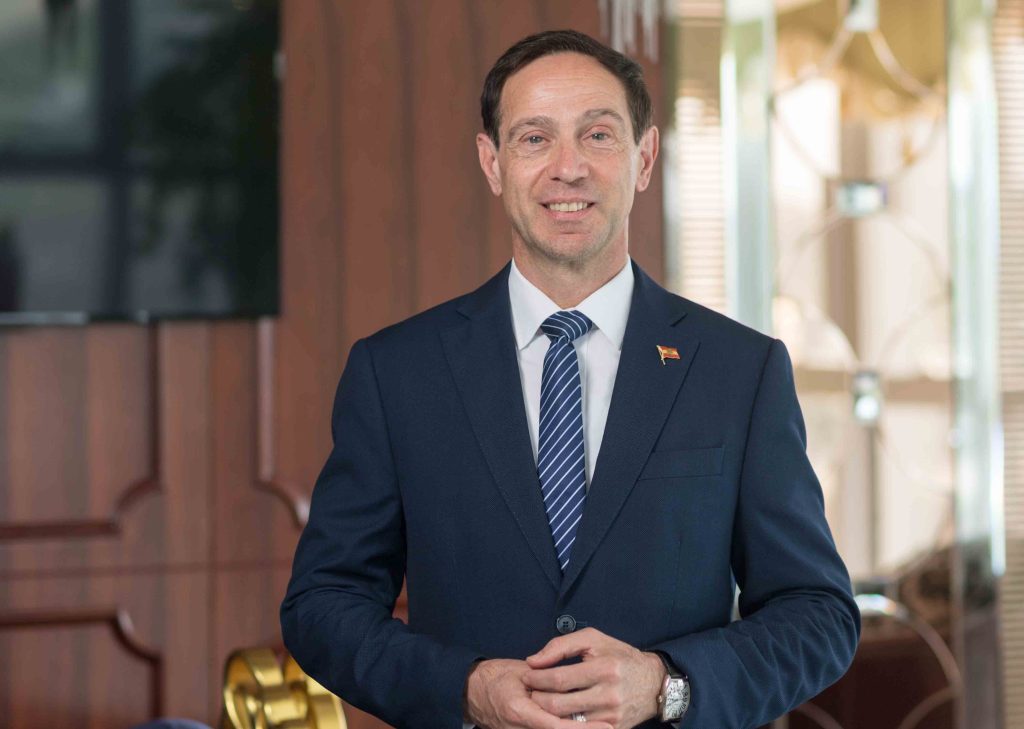 Hotels & Preference Hualing Tbilisi, a five-star hotel located on the shores of Tbilisi Sea, is continuing to develop and establish itself as the best business category hotel in the country, capable of offering top-notch experiences and remarkable service to its business visitors and other guests.
A new general manager, Peter Hoellrigl, shared his strategy on improving the hotel's presence with Golden Brand.
Q. Mr. Hoellrigl, let's start our interview by having you introduce yourself to our readers. Please tell us about your managerial experience.
A. In my experience I have noticed that you don't want to force anything through, things that look cool and work fast but are not really good and don't last. Anything that feels good and is in the interest of all parties involved will be successful. Promoting good staff is good for the staff, good for the hotel and hence also good for me. Don't force people to make them understand, feel, believe – like the chef and hot plate….
I was educated in Austria, so I have a good background and experience in the culture of different nations. Based on this, I chose to work in the hospitality industry because I've always liked challenges and the excitement that is related to this field. Moreover, I can say that I'm a creative person, which gave me an opportunity to do all these things.
When I was nineteen, which is actually very young, I was lucky that one of my bosses moved to the island of Bermuda, and I was able to join him. From there, my boss helped me move to The Ritz-Carlton Hotels in America. Then I worked in Germany, in Czech Republic, and back in Austria for seven years. Then, I went to visit some friends in China and ended up staying there for about twenty years. I worked there for several different international companies. But despite my love for China, I decided it was time for a new challenge, and now I'm very happy to be here, in Georgia!
Q. What was the first thing you did when you got to work at the hotel?
A. Sleep, as I had been traveling for days. Only if you are happy and secure as a person can you lead your team, by example. Seriously – our business is about people and my people serve our guests – so my people are my number one priority. Of course, we are business and profit-oriented; many people forget that the way to long term success is only with people. Also, helping people is a noble trade and is in line with hospitality.
Q. Please tell us your plans for improving the hotel?
A. The Hotels & Preference Hualing Tbilisi is already an established hotel with a great reputation and a stable team.
So, I can work on fine-tuning in every way. I plan to add more focus on patrons, and support creative, artistic, sport and charity-related special events. Conferences and exhibitions are our strong point, and those I certainly plan to keep up. In addition, our Sports Bar LEGENDS, our free-standing Recreation center, and one of the biggest ballrooms in the city will come up with some more events. This hotel has great potential and will only get better as it keeps improving and growing.
Q. Please tell us more about how you are going to develop the recreation center of the hotel?
A. Hotels & Preference Hualing Tbilisi offers a 3,500 sq.m Business Class Recreation Center. The center includes a wide selection of fitness services, such as aqua aerobics, swimming classes and personal trainers; you can also find a sports shop and café-bar there. The hotel has the biggest indoor swimming pool of all hotels in the city. Our business swimming pool is 25 meters long.
We came up with the idea to open a terrace, after many requests from our loyal members. And as we always consider our guest's opinions and feedback, we decided to prepare for the summer season and show to our valuable guests our loyalty and appreciation.
The terrace will be ready to welcome our guests by the end of May.
Q. Let's talk about Hotels & Preference Hualing Tbilisi as a place for different kinds of meetings. The hotel recently hosted the World Para Powerlifting championship and will soon host the Golden Brand awards. What types of meetings can be held at the hotel, which of them was most impressive?
A. Hotels & Preference Hualing Tbilisi offers perfect venues for holding conventions, seminars, workshops, incentives, exhibitions, fashion shows, corporate parties, concerts. The hotel has six conference rooms, all with daylight. The size of the meeting rooms varies from 120m2 to 220m2 and can host up to 250pax. Not to mention our 800m2 ballroom, which is perfect for sporting events and exhibitions.
Also, if you are planning to celebrate your dream wedding party in a luxury ambiance, then our ballroom ⁠— the largest in Tbilisi ⁠— is the perfect place.
Our food and beverage department will guarantee delicious coffee breaks, mouthwatering desserts, and a wide choice of menus for lunch and dinner.
As you just mentioned, the hotel hosted participants from more than 135 countries for the World Para powerlifting championship. We host different kinds of events, such as the Dance Sport Georgia event competition, Karate Championship, National Olympic Committee Award Ceremony, Art Dance international competition, Conference of Prosecutors and Investigators of Georgia for Prosecutorial council elections, and many other.
Q. What is your number one tip for guests coming to Hotels & Preference Hualing Tbilisi?
A. Well, we believe strongly in focusing on every guest individually, according to their needs. So we will always customize our feedback to the situation on hand.
Personally, I strongly believe that we should make as many experiences as possible. Our staff is very unique and everyone has an interesting personality. They help our guests have a good time whether at the gym, bar/ restaurant, breakfast, front office information or just in your room.
I would also recommend getting a feeling of the country and the people. Georgians are really well-balanced people and so friendly and able to enjoy life. See the sights and experience the wine and food.
Q. How do you feel about living in Georgia? What are your impressions about this country and about its hospitality sector?
A. Georgia and the hospitality industry are strong, there is a good future ahead of us and the spirit of improvement is everywhere. I am very sure of it, as I experienced the same during my time in the USA decades ago and in China until just recently.
I have spoken positively about Georgians already before so I can add their hospitality, their love of food and wine, which they can talk about at any time and with such a passion.
I see that even though the country is not big (which may even be an advantage) Georgians are very proud of their culture, and the beautiful land with all kinds of nature from mountains to the sea, hot summers and cool winters, there's something for everyone.