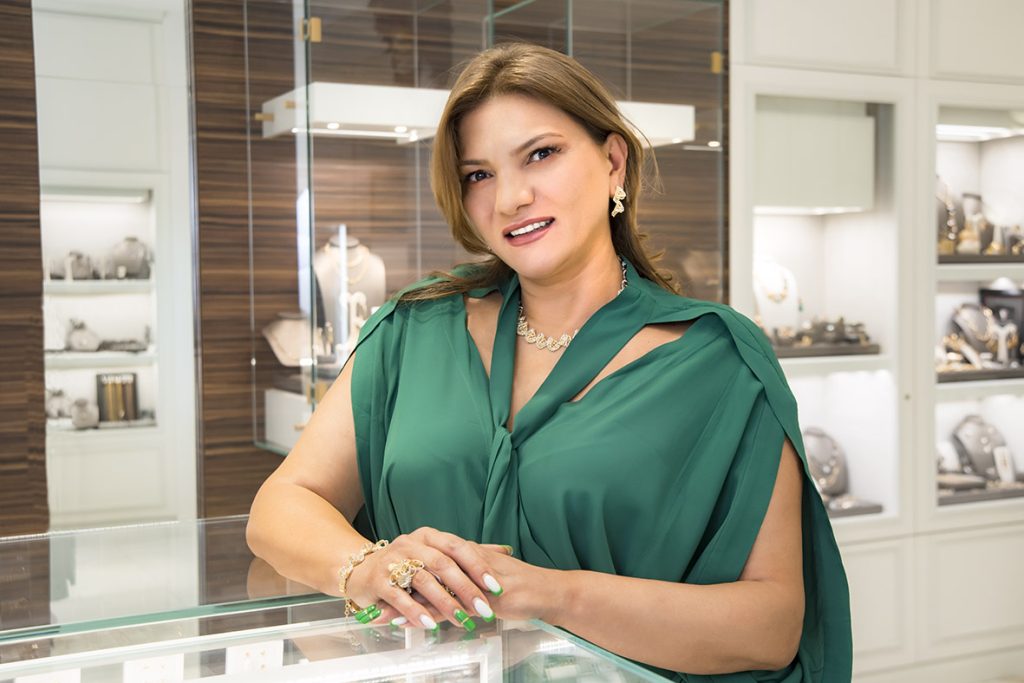 Franco Fontana, a well-known and dynamic fine jewelry brand from Italy, continues to make an impression on the Georgian market with its innovative, artistic and quality designs.
The brand has been on the Georgian market for more than ten years already with seven branches, which follow new trends and offer the latest collection each year.
Franco Fontana pieces are inspired by both Renaissance traditions and new fashion trends.
Their jewelry is produced by a combination of unique craftsmanship and the latest technology.
Quality, excellence and customer satisfaction are the most important values at every stage for Franco Fontana. These values helped the brand win the hearts of Georgian customers, who have named Franco Fontana as their number-one favorite jewelry brand for the second year.
Company Director Maka Razmadze said that since the day of its establishment, Franco Fontana's stores have offering the most trendy, fashionable and famous kinds of jewelry of different brands to the Georgian consumer.
"The Franco Fontana jewelry store chain offers a diverse collection of the finest Italian gold, diamond and silver. This is a brand that very often updates its collection for its loyal customers. In the spring-summer collection, if you want to add variety to your everyday look, we suggest the Caoro brand, which is made of different colored gemstones," Razmadze said.
Currently, Franco Fontana has six shops in Tbilisi, and a seventh, premium shop "18 Precious Crafts" that is located in the City Mall shopping center in the Saburtalo district of Tbilisi, where only 750 select pieces of gold, silver and precious stones are sold.
The company currently employs about 50 individuals and "has been a symbol of reliability and quality on the market for 14 years", Razmadze says.
Q. What are the most in demand pieces of jewelry at Franco Fontana currently?
A. Following the trends of 2022, a collection of chains is in great demand, which are presented in different designs at our stores.
Large and colorful earrings, massive bracelets, and multilayer chains are trendy in the jewelry fashion industry this year.
Of course all the latest collections are available at our stores.
Franco Fontana – this is the choice of tasteful people and we try our best to pamper our customers with trendy jewelry.
Q. What does Franco Fontana offer Georgian customers? What can customers find in your store?
A. Let us agree that gold jewelry is an irreplaceable accessory that is relevant at any time. Franco Fontana's gold jewelry is ideal for both women and men, so we offer them the most sophisticated, modern style.
Q. Tell us why Franco Fontana jewelry makes the perfect gift.
A. Jewelry is more than a purchase, it's an investment that can actually appreciate in value. Plus, if you have ever received a piece of jewelry with sentimental value, you will probably always remember who gave it to you. Remind a loved one how you love them and decorate the holidays with Franco Fontana jewelry. Also, don't forget that devotion to yourself is very important.
Q. How has Franco Fontana been developing on the Georgian market?
A. We began with one store and increased our presence on the market up to seven stores. We have managed to achieve this thanks to the loyalty of our customers and the efforts of our experienced staff, several of whom have been with us from opening day of our first store.
We were able to turn from one store into a network of leading jewelry stores in Georgia.
Our company is a leader which introduced the Italian gold standard to Georgia. Our contribution to the development of the market is large. We introduced Italian, laser-cut gold jewelry. It is the achievement of Franco Fontana that precious stones, including diamonds, now come with certificates. Franco Fontana managed to raise standards on the market and regulate them.
During these years, the biggest challenge for all brands and for us was the pandemic. Our major challenges were not to lose consumers due to the pandemic and the rising cost of gold, and to retain personnel.
When the pandemic began, we had no online sales. We managed to adapt to the situation rapidly, though. We started selling vouchers which allowed us to pay salaries to our personnel during the whole pandemic period.
Soon the price of gold increased. However, through our efforts and discounts, we tried to regulate the price. Initially, the launch of online sales and exclusive video calls were also challenging because we received so many of them. In short, it was challenging to adapt to the unusual situation created by the pandemic at first.
Q. What is the competitive advantage of Franco Fontana?
A. As you know, every big brand on the world market has competitors. As for Franco Fontana, we offer our customers a collection of high quality gold, silver and diamonds, as well as exclusive exhibition items presented only in our chain of stores. Accordingly, we offer customers a choice on brand and quality.
We offer the best customer service thanks to our attentive consultants, who are always ready to help the customers choose their jewelry with a smile on their face. A very pleasant and warm environment is created at Franco Fontana stores.
Also, compared to other jewelry stores in Georgia, we offer a wide variety of different brands of different price categories under one roof. These brands are Dorica, Maxioro, Caoro, Gold Art, Pomi and others. Customers can find affordable jewelry pieces at our store and this helps satisfy all customers.
Q. Please tell us what the main success was that made an impression on the experts of the Golden Brand awards and the customers who participated in the survey when naming Franco Fontana as their favorite jewelry brand.
A. Receiving the Golden Brand award for the successful activities of 2021 was doubly gratifying for our company as that year we recovered from the challenges of the pandemic. We earned this award thanks to the love, loyalty and support of our customers.