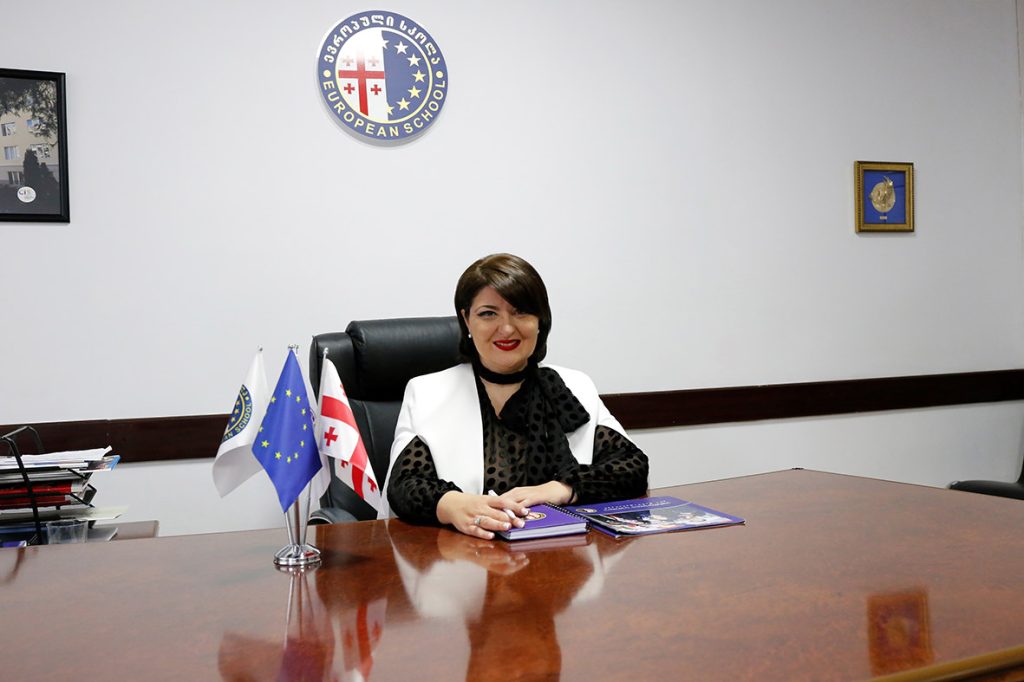 Owing to high demand and an increased number of enrollments, the first CIS-accredited school in Georgia, European School, is expanding with a new, modern building for graduate students, which will be opened in the vicinity of the existing campus in the Saburtalo district of Tbilisi in 2022. 
"To enhance our educational institution and accommodate a constantly growing number of students, the European School has launched a significant infrastructural project. This year an eye-catching, modern addition will be built in the Saburtalo district, in the close neighborhood of the current campus.
"The new ES building will be a physical expression of our priorities. It will include the space, tools, and technology to become a prototype for the educational institution of the future. Technology resources, hands-on experimentation, various meeting and recreation spaces, arts and exhibition halls, and indoor and outdoor sports facilities will fuel creativity and innovation at the European School", Director of the European School, Sophio Bazadze, said.
In addition, the European School is expanding its unique opportunities for students by starting offering IB Career-related Programme (CP) that combines a quality academic foundation with real hands-on career experience. With its unique hybrid teaching approach, CP will prepare students to excel in further careers.
Bazadze said with pride that "the ES is the first and only full continuum IB World School in Georgia offering all four programmes of the International Baccalaureate – IBPYP, IBMYP, IBDP, and IBCP. At this stage, all required standards and practices are in place, we are prepared to start enrollment of students in the program from September."
To encourage talented and motivated students from all regions of Georgia, the European School has also launched a nationwide scholarship program.
"The foundation creates change in the lives of academically brilliant students with high potential by helping them access and pursue the education they deserve. A full scholarship provides unique educational opportunities to pursue studies in a rigorous academic environment in the IB Diploma Programme and American High School, reach their full potential, and achieve goals", Bazadze said.
Tenth-grade Students who are citizens of Georgia and are transferring to the European School to complete grades 11-12, may apply to the scholarship program.
The European School was founded in 2007, initially offering classes from pre-school to ninth grade. The original purpose of establishing the European School was to provide Georgian children with access to high-quality primary and secondary education with a strong foundation in English. This would give them the chance to succeed both at Georgian and worldwide universities. As a result of rapid growth and development, the founders of the school decided to offer international programs to its students.
"For fifteen years, the European School has been equipping students with the knowledge and skills required to help them achieve success in a changing world. Today our graduates are admitted to prestigious colleges and universities worldwide", Bazadze said.
Values-driven international education is expressed through core values that are woven into every academic and extracurricular activity at the European School. The school actively promotes four values that form the basis of everything we do. They include: Leading through innovation; Pursuing excellence; Growing by learning; and Fostering global citizenship.
European School is recognized by the most influential business award ceremony in Georgia, the Golden Brand. The school has become the winner and number one private school in the country.
Q. There are many private schools in Tbilisi and other cities in Georgia. Why should students choose European School?
A. There are many reasons why the European School should be the top choice of many students.
First of all, we offer a variety of programs –Four authorized International Baccalaureate (IB) Programmes, the American High School (AHS) where curriculum is enriched with Advanced Placement (AP) courses, the Georgian Program which is based on the Georgian National Curriculum, and European Kindergarten.
We lead our students through innovations. Our highly-qualified teachers use innovative teaching approaches and integrate innovative resources into teaching. We offer state-of-the-art infrastructure, classrooms equipped with computers, interactive whiteboards, a wide range of library resources, and many other opportunities.
We are proud to declare that we have found the right path. We strive to follow it, and try to achieve the best in following the path towards excellence.
Q. Currently, how many students are enrolled in the school and how many of them are foreigners?
A. 900 students from more than 35 different countries are currently enrolled in the European School.
Q. The European School has digital classrooms, and students can meet humanoid robots in the corridors. How does this environment help improve the learning process?
A. Digital classrooms make learning interesting and engaging at the European School. All classrooms are equipped with computers, interactive whiteboards, document scanners, and conference cameras.
Furthermore, educational robots are innovative teaching tools existing at the school.
The Pepper and NAO robots easily gain the sympathy of students thanks to their charming appearance and human behavior. They increase students' motivation by attracting attention, arousing curiosity, and stimulating interest in learning.
By integrating robots into the learning process, students find that engineering and programming are fun and abstract knowledge becomes concrete. Incorporating emerging technologies into the learning space is an essential factor in supporting high-quality education.