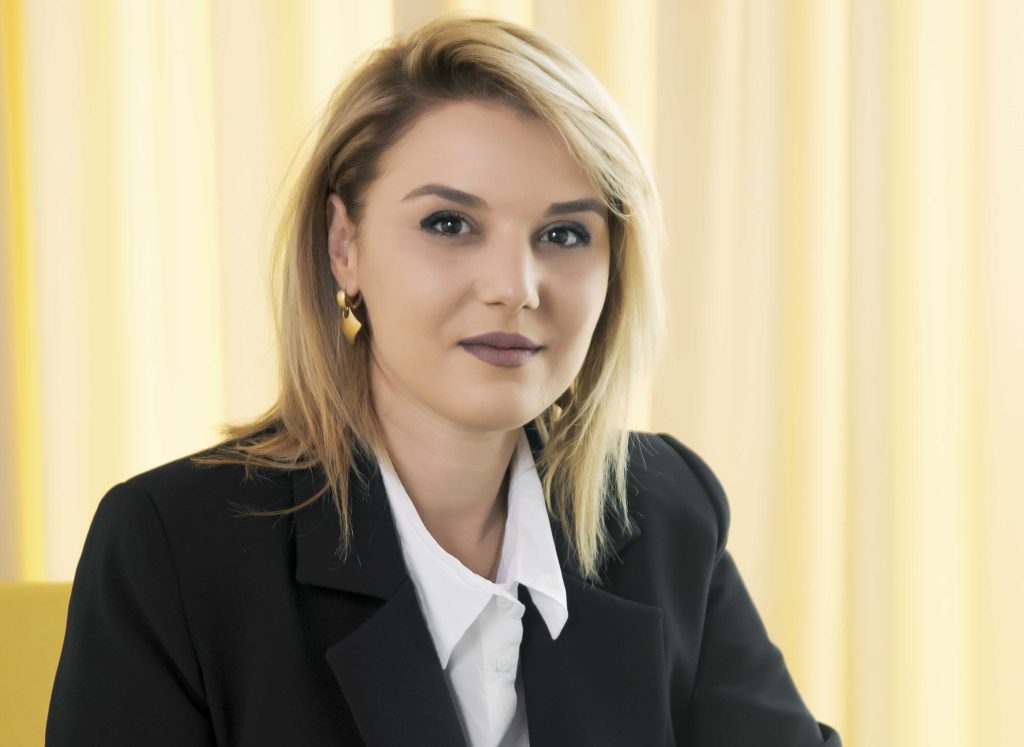 While it has only been a year since heating-cooling and ventilation systems company Celsius, an exclusive importer of Italian brand Ariston, appeared on the Georgian market, the company has already made impressive steps toward taking the lead.
For its successful activities of the previous year and noticeable debut on the market, Celsius this year has received the Golden Brand award, which is recognized as the most important and influential business award in the country.
Head of Marketing Department of Celsius, Sopo Akhalaia, has summarized the first year of the company's presence on the market and shared the future plans of the company with Golden Brand.
Q. Let's summarize the first year of the company's existence on the market.
A. Celsius was established during the pandemic period and in spite of this challenge I think we have managed to develop successfully.
During the one year we have been open, Celsius stores have sprung up in the capital city of Tbilisi and in other cities of Georgia – Batumi, Zugdidi, Kutaisi and Telavi. In total, we operate seven stores and employ about 100 people.
In addition, we have made partnerships with many companies where our products are being represented.
Celsius has grown successfully both in retail and wholesale.
Our company observes the ISO Standards System for Occupational Safety, Health Management and Environmental Management.
We also conducted a consumer market study, the results of which surprised and delighted us. We communicate with customers on a regular basis and take their needs into account as much as possible, which helps us move the company forward.
In view of all this, we believe that we have achieved a lot in just one year.
Q. What are the company's future plans?
A. This year Celsius is focused on increasing the share and range of imports.
After successfully introducing the famous brands Carlo Poletti and Warmhaus to the Georgian market, this year we will add sectional radiators from Faral and heating accessories from KAS.
Negotiations are currently underway with various leading brands, details of which will be available soon.
Our products are available in Celsius stores and in various large chains and supermarkets. We have partner companies in nearly all regions of Georgia.
We offer only high quality products. As you know, Celsius is the exclusive and official representative of the famous Italian brand Ariston in Georgia. We have very good warranty service, which includes four to five years of service. Customers can buy parts with an official Ariston warranty if necessary. Ariston is the most in-demand brand in our portfolio.
Overall, our goal is to create quality and service in order to gain satisfied customers; and to create the highest standard of service in the field of heating and cooling with professionalism, dedication and the introduction of new technologies.
Q. Who are your clients? Do you have famous companies on the list?
A. Our customers are various construction companies, hotels, movie theaters, beauty salons, restaurants, stores and retail buyers.
We are a young company and I am sure in the coming years we will achieve more, we will increase the number of our partners. With the expansion of the range of our products we will be able to expand and collaborate with more corporations.
Celsius is a new company that has been able to establish itself in the Georgian market in a short period of time, managing its business in good faith and with efficiency. We are very happy to see that customers have already shown their loyalty to us; they choose us, they trust us.
Q. What promotions or offers do you have to attract customers?
A. One of the important issues is the proper assessment and design of the space before the installation of central heating. Improperly installed systems can cause problems. For example, insufficient heat, high bills and improperly installed heaters, which can even endanger our health. And so offer pre-sale design based on the customer's needs.
Celsius regularly offers customers various promotions. The campaign "Renew and Save" is quite popular. You turn in your old boiler and a new one is sold at a substantial discount.
Q. How competitive is the Georgian market and what is the competitive advantage of Celsius?
A. Celsius employs the most experienced and professional people in the field of heating and cooling, all of whom are quite familiar with the Georgian market.
We have high quality products and services, which is important in any purchase. We adhere to high safety standards and serve our customers with full responsibility until the end of the warranty period.
The official website of Celsius is www.celsiusi.ge, where the customer can obtain information about the products offered by the company, use online services, remotely consult with our experienced staff, and of course purchase our products. We serve customers anywhere in Georgia, products are delivered, installed and offered warranty service everywhere. All this can be solved remotely by the customer without leaving home, which I think is very comfortable for anyone.
Prices at our stores are also competitive.
Q. Celsius has won the Golden Brand for the utmost success achieved by a brand in 2021. Please summarize the previous year and tell us what the main success was that made an impression on the experts of the Golden Brand awards and the customers who participated in the survey.
A. I think our win was owing to a well-planned marketing strategy, teamwork, high quality products and attentive staff.
We got involved in charity by helping the elderly and large families spend the winter in warmth. We donated to several families and installed the heating system they needed. We participated in TV projects and campaigns.
A core value ​​of the company is social responsibility, such as environmental protection, gender equality, innovation support and education promotion.
Constant innovation and digital transformation are the foundation of the company's success.
I am happy that Celsius won the Golden Brand award. This means that we are on the right path and will continue our work with more enthusiasm.