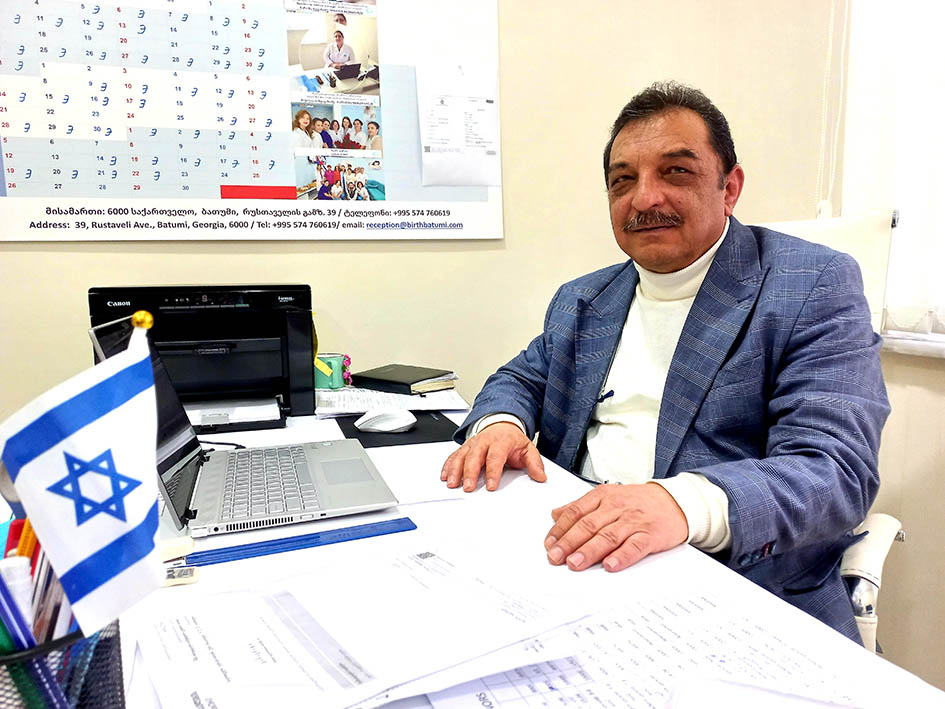 BIRTH, an Israeli in vitro fertilization center located in Batumi on Georgia's coast, is helping childless couples realize their dreams of parenthood. This is the first clinic in Georgia to have official accreditation from the Israeli Ministry of Health and to be licensed to serve both Israeli citizens and other nationalities.
Founder of the clinic, who is also a Doctor of Medical Cybernetics and holder of international medical patents, Lev Adirovich, gave an interview with Golden Brand in which he talked about future plans and past successes of the clinic.
"In the future, we want to open a genetic laboratory to make high-quality tests, including Preimplantation genetic testing (PGT), to be available on site in a short time and with accurate diagnostics. We also plan to purchase an embryoscope device that will allow the embryos to be monitored remotely for 24 hours," Adirovich said.
Adirovich added that BIRTH has been operating in Georgia for three years, and during this time was able to establish a good reputation among reproductive clinics.
BIRTH offers infertility treatment, in vitro fertilization, donation, surrogacy programs, accurate diagnostic lab tests, and ultrasound examination.
Q. Please tell us what the main idea behind creating an in vitro fertilization center like BIRTH was?
A. BIRTH was established in 2019. Since I am a doctor of automated systems management in biology and medicine, I wanted to open a reproductive clinic in my native Batumi, where I was born.
I was seventeen years old when I left Batumi. I spent my adult life outside of Georgia, but I always wanted to return to Batumi, and as soon as I had the opportunity, I came back and established a reproductive clinic.
The goal of our clinic is to treat both Georgian and foreign couples with modern Israeli technologies and to give them the happiness of having a child!
Q. Please share some statistics on how many new lives are created through your center each year?
A. It will soon be three years since the clinic opened, however for two years, as you know, there was a pandemic, which is why we resumed full-time work for a few months.
We have had quite good results during this period, however, including 90% success in the case of surrogacy, 65% with donor eggs, and 45% with the patient's own eggs. We have cases where women at the age of 52 and 54 got pregnant. A very strong team is working at our clinic and each action is focused on success. I am proud of the competence and professionalism of our employees, both Georgians and foreigners.
Q. BIRTH has patients from foreign countries. Why should foreign patients choose BIRTH and from which countries have you had patients?
A. We provide Israeli quality for Georgian prices, which makes it very attractive. We have patients from Israel, America, Canada, Moldova, Armenia, Turkey, Lithuania, Belarus, Turkey, Azerbaijan, Kazakhstan and others.
The ratio of patients at our clinic is 50/50 Georgian and foreign patients. Our clinic can be said to be one of the leading clinics in Georgia, as we are the only one accredited by two countries, a guarantee that international standards are observed and all procedures are performed at the highest level.
We use the most modern procedures established in Israel and the treatment process is carried out with the full support of our foreign specialists. The clinic complies with the full recommendations of the Association of the European Space Research Establishments (ESRE) and the quality of clinics is similar to Israel.
Q. If there is no confidential information, let us know how much BIRTH's services cost, both for donors and parents.
A. Despite the highest quality, we try to maintain the average prices in Georgia, which depends on the couple's health, age and other details. It also depends on the procedure and its complexity. On average, in vitro fertilization costs from 7,000 to 10,000 GEL. If a donor is required, the price increases.
We have a Georgian-Jewish fund which has various offers for our patients. We especially try to support Georgian couples and stagger payment over a few years or provide other assistance.
Q. Please talk about the clinic's business relationships with foreign clinics and colleagues.
A. Our clinic has partners from prominent clinics in Israel, China, Australia. We plan to go to new countries and cooperate. Our desire is to develop medical tourism in Batumi. There is everything for this in Batumi – a pleasant environment and good infrastructure.
Q. BIRTH is now a winner of the Golden Brand awards. What led the clinic to this success in your opinion?
A. It is a great honor for us to be the winners of the Golden Brand awards. It shows how much success BIRTH has achieved in the short period of time since its establishment.
Our clinic has been able to establish a quality image, trust in us is high and it gives us additional incentive to improve results, contribute to improving Georgian demographics by making as many families happy as possible.