Genesis Expo will gather over 5,000 CTOs in one place, and about another 11,000 engineers. If you are a first time dev at Expo this post should help you think about your trip.
Halls, the popular mentholated cough drop owned by Mondelez International, has presented its revolutionary Halls Energy candies with vitamin B6 and caffeine on the Georgian market.
Serhiy Makoday, Commercial Lead for the Caucasus said that Mondelez's corporate strategy and mission is to 'empower consumers to snack right,' provide products that respond to their demands and consider emerging trends on the market.
"At Halls, we noticed that more and more people are feeling increasingly tired because of the current pace of life and, to this end, we have presented the revolutionary Halls Energy candies with vitamin B6 and caffeine that help to reduce tiredness and fatigue. This position quickly earned positive feedback from our target audience, so this year we'll focus on extending this 'pocket energy' lineup that goes beyond freshness", he said.
Halls has been on the Georgian market since 2015 and as Serhiy says, the brand has managed 'to win the hearts of many consumers and showed excellent growth dynamics'.
"We do believe that our idea to help the world breathe better is the key to the connection between the functional side of the product and the emotional resonance we want to build with consumers.
"At the same time, we never stop exploring the needs of our customers and adapting our marketing strategies. This year, with the launch of Halls Energy, we introduced a new advertising campaign on all media channels, both TV and digital, with the message: Halls are refreshing candies that give a boost of vivacity", he said.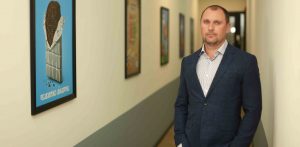 As of today there are seven positions in Halls' lineup in Georgia: five SKUs in sticks and two SKUs in boxes – mini-format candies in a convenient pocket-size package.
How important is the Georgian market to Halls' business today? What growth and expansion prospects do you see in the country?
The Georgian market is one of the biggest in the Mondelez family, so we are sure it has great potential.
In Europe, Halls is a leader in packaged candies and we are seriously looking at the Georgian market to grow this category. With this in mind, we will focus on our core line-ups and strengthen marketing support investments to provide our consumers with as wide choice as possible.
How do you view the continuing impact of COVID-19 on the Georgian market and in general, how has the pandemic affected the sales/export/distribution of Halls in the country?
Of course, the market faced decreased growth rates and a drop in purchasing power because of the pandemic. At the same time, we see great potential for Halls products – the industry is developing, and people are ready for new offerings, especially when it comes to online sales channels.
We appreciate that even in turbulent times, consumers choose our products that are confirmed, in particular, by awards like the Golden Brand. So, we cannot but thank our consumers and do our best to surprise them with new options.
How many customers does Halls have in Georgia and how has the number of customers increased year after year?
We cannot speak in absolute figures but we can say with certainty that Halls is recognized and loved by consumers in Georgia. This is proved by the fact that you can find our products in almost every shop in the country.
In general, could you please summarize 2020 – what were the biggest challenges, biggest achievements?
Though 2020 was tough for the global and Georgian market, we did our best to maintain and improve our positions. For instance, we had a couple of interesting launches and broadened our core line-up. These include Halls Energy with Vitamin B and Caffeine as well as Halls Mini Mints, mini-format lollipops in a convenient package that give a feeling of freshness.
How has 2021 started for your company, what are your expectations?
At the beginning of 2021, Halls demonstrated truly excellent performance and we hope that that consumer ability will gradually recover. Nowadays the world is facing the biggest challenge in our recent history, so we must expand our thinking and act beyond the needs of the moment. In such difficult times, we are developing a new winning formula, focused on anticipating consumer needs to make the right prioritization.
Georgian customers have named Halls their number one favorite menthol flavor candies this year. What do you think brought Halls this recognition?
We are doing our best to ensure Halls is stable and fast-growing: we introduce only the best practices and innovations, at the same time we try to satisfy local preferences. Besides, we pay particular attention to the presence of candies at points of sale and spectacular displays that can't help but attract consumers.
What makes Halls a distinguished brand and how do you compete with other brands on the market?
Halls has a very diverse lineup of flavors that covers most of the preferences of consumers from strong menthol flavors (Menthol Extra) to fruity flavors with a light refreshing note of menthol (Colors, Honey Lemon etc). On top of that, convenient formats and modern packaging are the keys for Hall's continued success on the market.
In general, what would you say about the Georgian market, how healthy is the competition here and how fast is the Georgian market growing?
Like the rest of Eastern Europe, Georgia is one of our top markets due to its size. The Georgian market is diverse, with many international brands and local jewels presented here. Nonetheless, we strongly support fair competition as it drives us to be the best we can be. Competition pushes businesses to come up with new ideas and products, to make customers' satisfaction the primary goal – so it is beneficial not only for consumers but for companies as well.