Equity Build Through New Positioning of Brand, Awareness, Penetration, Loyalty Growth
Milka, one of nine global chocolate brands in the Mondelez International family, is continuing to develop its presence on the Georgian market, planning to strengthen marketing support investments and develop seasonal offerings.
"In our marketing activities, we are guided primarily by the market trends and consumer behaviors, and they are very dynamic and changeable. However, our long-term priorities for Milka in Georgia are equity build through new positioning of the brand, awareness, penetration and, of course, loyalty growth", said Sofia Tkebuchava, Category planning and activation Manager Chocolate&Gum for the Central Asia and the Caucasus region.
In Georgia, Milka has more than 10 units of regular lineup plus seasonal products. Traditional hazelnut and milk flavors are the most in-demand and most loved.
Since its introduction to the market in 2016, Milka has managed to win the hearts of many consumers and this year the brand won its second Golden Brand award in a row, and was named the number one favorite chocolate brand by many.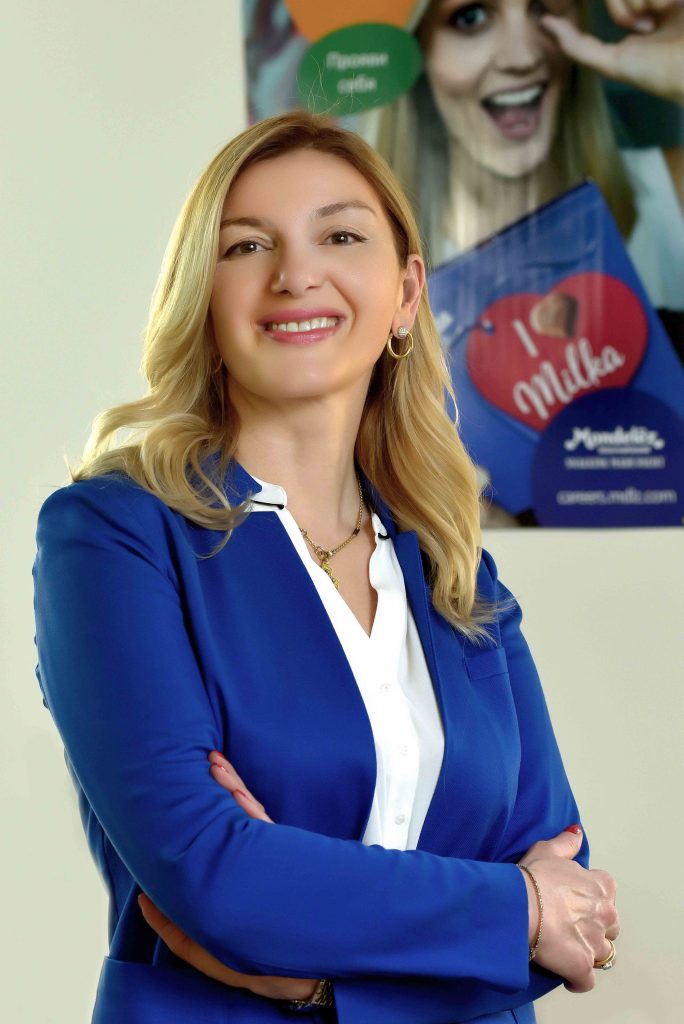 "We are always trying to achieve superiority by delivering strongly on Milka's product truth: soft bite, undemanding melt, and balanced flavor. Thus, maintaining high chocolate quality combined with the right and appealing brand communication is the key to Milka's continued success", said Sofia Tkebuchava.
Q. How important is the Georgian market to Mondelez' business today? What growth and expansion prospects do you see in the country?
A. The Georgian market is very important for Mondelez' business, with great potential. We have been for many years, and we have a long track record of love for our brands by our people.
We are striving to organize our increasing portfolio in a meaningful and purposeful way across different consumer needs.
We are truly optimistic about business here as people are working remotely in many industries and snack more at home. With this in mind, we will focus on our core line-ups, strengthen marketing support investments, but at the same time, continue to develop our seasonal offerings.
Q. Do you plan to bring new products to Georgia and which ones?
A. Georgian consumers are known for being interested in innovations, so we are always ready to offer something new, but this is always a secret! The only thing we may say is that the new Milka products will be tender.
Q. How do you view the continuing impact of Covid-19 on the Georgian market and in general, how has the pandemic affected the sales/export/distribution of Milka in the country?
A. Of course, the pandemic affected the Georgian market as well, having made us review and adapt our strategies, plans, and tactics to ensure the further development of the brand and category.
But with diligent teamwork, we minimized Covid-19's negative impact and achieved our annual goals.
Q. In general, could you please summarize 2020 – what were the biggest challenges, biggest achievements?
A. The global pandemic that reached the countries of the Caucasus and Eastern Europe in 2020 significantly affected all spheres, changing the usual way of life of our consumers and the trade itself.
On the one hand, despite any crisis, the food sector is always in the category of necessities and in demand in society, but on the other hand, we cannot deny the general drop in purchasing power. Besides, as there are stricter technological, sanitary, and safety requirements and a huge focus on product safety, we can notice a growing trust in big brands.
Thanks to our flexible approach, the strength of our brand, and the strength of the team, we've still managed to save and even expand our loyal audience. And now we are sure, the consumer will choose us, even if the market grows, falls, or remains unchanged.
Q. How has 2021 started for your company, what are your expectations?
A. Thanks to the strength of our team and the love of consumers for our brand, we have had a successful beginning of the year. That is why we expect that 2021 will keep the growth on the same level.
At the same time, the market has changed, and we need to adapt and benefit from those changes. For instance, this means the rapid growth of the e-commerce sector. Here, in Georgia, we are now more actively cooperating with retailers in this field and successfully promoting our products online.
Q. When I googled Mondelez International and in particular one of its brands Milka, the internet is full of new stories: Mondelez International has opened a state-of-the-art cocoa crop science technical center in Pasuruan, which enables the company to develop and promote better cocoa farming practices. How will this affect its brands?
A. The new cocoa crop technical center will help us to drive the Cocoa Life program, which we recently joined. Milka, which is our iconic brand, one of nine global brands in the Mondelez International family, is now made from 100% high-quality sustainable and organic cocoa beans.
By the way, this year Milka celebrates its 120th anniversary.
Q. Mondelez is spending $340 million to acquire Hu Master Holdings, which makes chocolate that is vegan and free of soy and refined sugar. Should we expect new products from Mondelez International and what will these products be? When will they appear worldwide and in Georgia?
A. The mission of our company is to produce the right snacks, at the right moment, in the right way. 'Right' means what's right to this or that consumer. That is why we are striving to organize our increasing portfolio in a meaningful and purposeful way across different consumer needs and the company globally acquires new business to broaden the offer of the right snacks in various countries.
Q. In another article I read that Mondelez International is interested in buying brands offering healthier snacks, to add healthier products to its portfolio. What are the plans in this direction, can you be more specific?
A. As a company intent on creating the future of snacking, Mondelez is constantly studying consumer preferences and global trends. We understand that more and more consumers are choosing a healthy diet, and therefore seek a balanced snack. That is why we are constantly working on updating our portfolio in this direction.
In particular, we have already developed certain projects to reduce the caloric content of our snacks and pay close attention to the quality of ingredients and portion control.
Moreover, we are always interested in growth opportunities but, for now, we cannot reveal our plans!