International beauty company Avon, a solid employer and a company with a record of empowering women in Georgia, continues to implement a sales growth-oriented strategy on the local market.
Beauty, household, and personal care company Avon has been operating in Georgia since 2008; during these years the company has been established as the largest women's organization in the country, unifying thousands of beauty advisors throughout the whole country.
As of today Avon offers customers five categories of products, including: facial skin care products, body care products, make-up cosmetics, perfumes and accessories, which all include up to 1,500 products in its portfolio.
Avon tries not only to bring home beauty, but also to care about the health of women in Georgia.
Since 2013 Avon has introduced its main CSR activity – BCC (Breast Cancer Cause) in Georgia – focused on raising funds through the sales of Avon Pink Ribbon Products, and using the funds for activities that target the fight against breast cancer.
Last year, in addition to its corporate social responsibility project conducted in tandem with Europa Donna, which aims to raise awareness about breast cancer and operate a special space for patients and survivors, Avon also spoke out against violence against women & in 2021 Plans to Present The Campaigns Speaking out Against Gender Based Inequality, together with it's strategic Partner UNFPA Georgia.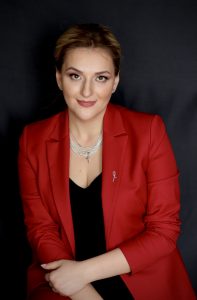 Avon's more than10-year-long journey in Georgia holds important milestones, such as becoming the No. 1 Beauty Brand in Georgia, and winning its third Golden Brand award.
Director of Avon Georgia Ana Tskhadadze shared her impressions of what has led the company to the success in Georgia as well as globally.
Congratulations on winning a Golden Brand award. This is the third Golden Brand win for Avon. In your opinion, why was the company awarded this status, and how is it that Avon has become the number one brand in Georgia?

Indeed, this is our third Golden Brand award under the nomination 'No1 Beauty Brand in Georgia'.
We are committed to innovations and therefore deliver a product portfolio that includes award-winning skin care, colour cosmetics, fragrance and personal care products, featuring iconic brands.
This is a company that for over a century has stood for beauty, innovation, optimism and, above all, for women. We feel that we share the same values with our customers and representatives and this is the fundament of their loyalty to the brand throughout the past 10 years in Georgia.
Overall, for 135 years the company has been constantly changing and evolving, following current trends and innovations for that period.
This is why the brand has a history of more than a century long and is one of the giants in the world beauty industry.
One thing has been and is unchanged throughout this period: promoting the empowerment, development, success of women and caring for their financial independence.
135 years ago at Avon, women were given the opportunity for independent entrepreneurship, even before they were allowed to run in elections.
How would you summarize 2020?

Although the year 2020 was quite challenging, the company managed to not only maintain but also increase its market share, which led to an increase in the total number of its representatives during 2020 and which also reflects the company attracting additional customers.

And Avon did a major rebranding last year. How did it affect the company's image in Georgia?

The company Avon rebranded not only locally but also globally throughout the world. Within the rebranding, it changed both the visual concept and the philosophical side.
A rectangular typography was added to the main symbol of the company, with arcuate shapes.
The brand-identifying pink was replaced by a pink-violet gradient.
As a result the brand has got a new character built on bold, inspiring, optimistic and inclusive principles.
The same sentiment is reflected in the new slogan 'Watch Me Now', which indicates the positioning of the brand.
What does it mean to be the best beauty company for women?

Avon is a brand with a commitment to improve women's health, safety and self-esteem through beauty and to speak out for them: to be a brand that brings superior-quality, beauty to all women. It is a brand that focuses on women's power by sharing beauty connections and creating a better tomorrow through self-improvement, independence and a brand that is a pioneering pipeline of products that excite and delight.