International furniture producer company Embawood which has been present on the Georgian market since 2007 has undergone a complete entrepreneurial upgrade to further boost the quality of its products, expand production and strengthen its position on the market.
The company has plans to add new branches, activate corporate orders and export its products.
Embawood Director Senan Omarov told Golden Brand that they invited a German consulting group for the major upgrade, adding that 2019-2020 was a 'milestone' for the company which currently owns two factories and 24 stores around the country.
"2019-2020 turned out to be a turning point for the company. The company purchased new equipment and upgraded its machinery. The process was led by a German consulting group which set new standards for processing and production of raw materials. The improvement of the entrepreneurial process, in turn, allowed Embawood to offer high quality products in line with European standards," Omarov said.
He stated that Embawood both produces in Georgia and carries out quality control at all stages of production.
"We create modern and trendy products and we are focused on each detail. Almost all materials are tested for harmful substances, hardness or durability. Accordingly, our furniture is ecologically clean. It is of high quality with high durability. And most importantly, Embawood products are available to everyone," Omarov stated.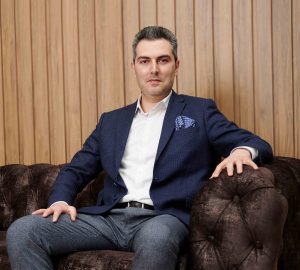 The company offers any type of furniture, including upholstered furniture, bedroom furniture, hallway furniture, childrens' room furniture, living room furniture and kitchen furniture.
Do you produce whole furniture locally or import some of your products?
Embawood has large production capabilities in Georgia with two enterprises operating in Tbilisi and Gardabani. In addition to our products, our designers create product designs as well. Our advantage is that we offer furniture which is tailored to the taste and capacity of Georgian consumers.
For which segment is your product targeted?
Our main focus is the middle income segment. However, any customer can find furniture tailored to their taste and income.
How competitive is the market?
The market has become much more competitive in recent years. However, most of the local brands do not produce furniture in Georgia, they just import furniture. Embawood is peerless on the Georgian market in terms of production scale, quality and the number of branches.
To what extent can we call Embawood's approach innovative?
Innovation has become a major focus for Embawood (meaning product, processes and services). With the development of technology, consumers are better informed and are looking for a product which will fully meet their needs. We have created a product based on customers' experience and requirements, creativity and local culture. The study of these factors (primarily the CRM system) has allowed us to create products and service features that are easily accepted by customers and makes us unique on the market.
What was the impact of the pandemic on Embawood?
The pandemic has clearly highlighted the need for digitization and automatisation. Consumers are currently spending much time online, looking for desired products at a competitive price. We have successfully overcome this major challenge through an updated online platform. As the economy shrank, obviously, so did our income. However, we managed to keep almost all the staff or branches and left the production pace at the usual mark.
Have you introduced any innovations specifically during the pandemic to attract consumers?
During the pandemic, the brand approach was completely renewed and became more customer-oriented. The complete collection has been updated and the company positioning in the digital space has changed. All of this has helped us to deal with challenges effectively and earn more attention from consumers.
Congratulations on receiving the Golden Brand. Can you name some of the specific activities of 2020 which have brought you this award?
Thank you! Receiving this award is a great honor and additional incentive for our team.
As for the activities, first of all these are the changes that we made in absolutely all directions during the pandemic. I mean the company upgrade, which allowed us to offer high quality and European-standard products. Another reason we received the award could also be the updating of the collections which became more modern for Georgian customers, as well as significant changes in communication methods and digital positioning which have allowed us to effectively deliver our messages to customers.