Georgian freeze-dried fruit and vegetable company Gemuani has plans to place its products on Amazon in the near future saying the move will make them more competitive on the global market.
Gemuani, which produces all-natural, freeze-dried fruits and vegetables, increased export sales by 30 per cent in 2020 compared to 2018 'thanks to our healthful products and strong ties with international partners.'
The company has just completed rebranding and will soon return to consumers with a new logo, packaging and design.
"Different characters will be depicted on the packaging, individually for each species. Initially the rebranded product will be present only in supermarkets because the HORECA sector is practically inactive now," Gemuani Quality Manager Eduard Partsvania told Golden Brand.
Partsvania says that Gemuani products are more popular on the international market because of their top quality and the high-awareness of freeze-dried products abroad.
Freeze-dried fruit and vegetables are not yet very popular in Georgia, he notes, but also points out that 'demand for the products is increasing year by year worldwide and Georgia will soon join the chain.'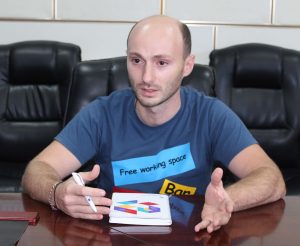 Freeze-drying is a safe, modern method of food processing and the most successful technology for long-term storage of food.
This technology was originally used in pharmacies and to prepare food rations for astronauts.
In recent years, the world's leading countries have begun to actively use this technology in the food industry.
Dried fruits with this technology retain 98% of vitamins and micronutrients, as well as shape, color and flavor. Live fruit, after rapid freezing, is further processed. During the process 97% of ice crystals evaporate from the product under low pressure (without heat treatment).
Gemuani opened a state-of-the-art freeze-drying facility back in 2017 with the financial support of the Agriculture Projects Management Agency (APMA) of the Ministry of Agriculture, Ministry of Economics of Georgia and USAID's REAP.
The company is located in Zugdidi, western Georgia and also owns kiwi orchards, tea and nut plantations.
How do you maintain the quality of your products?
We strictly control the raw materials we receive from suppliers because the quality of our products is dependent on raw materials. We have a supplier-evaluation system to know exactly how the raw materials are harvested. We work with farmers to raise their awareness; we explain to them what they should do to produce the products which will be in line with high international standards.Do you have international certificates for quality?
In 2019 we received the International Featured Standards (IFS) certificate. The certificate which means that our products are in full line with top international standards and is updated annually.
What was your goal when you started production?
We wanted to be innovative, create something interesting and useful which would be competitive on the global market among quality products. We produce healthy products full of vitamins and have been recognized as innovators on the local market. Gemuani crisps and ingredients are 100% natural. They come without additives, preservatives, sugar and sweeteners. Our products retain up to 98% of vitamins and nutrients found in fresh fruit. We use the most advanced and safe technology to preserve nutrients, vitamins, aroma, taste, color and shape of fresh fruit and vegetables. Along this we offer high quality packaging.
Where do you export your products?
To Europe, the US, the Baltic states and Russia. We also provide the B2B sector with ingredients, as well as retailers on the European market.
Do you have competitors on the local market?
 Currently we are the only local company which produces freeze-dried products. However, we are not afraid of challenges if competitors emerge.