Alutech Georgia is negotiating with Canadian partners and soon its aluminium and metal-plastic products may appear on foreign markets.
Having appeared on the Georgian market just four years ago, Alutech has already established itself as a solid brand name.
"Last year we added a metal-plastic enterprise in Tbilisi and a large branch in Kutaisi. Accordingly, we have increased the number of employees and currently they are more than 90," said Lana Bliadze, head of Alutech's PR and marketing department.
Currently the company has two offices and two enterprises – aluminium and metal-plastic production and serves western Georgia via its Kutaisi branch.
"We have plans to open a new branch in Batumi if the current coronavirus crisis allows this," Bliadze said.
Alutech actively works in both retail and corporate sales and cooperates with construction and development companies such as: Arci, Anagi, Unix, Mirax, Balavari, Krtsanisi Villa Residence and others.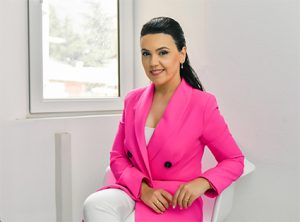 In addition to its business activities, the company has distinguished itself for its sense of corporate social responsibility (CSR) in recent years, and is now carrying its efforts even further by launching a new project: the company will select one family in need once per month and equip its home with doors and windows.
"The project has already kicked off and in the Kakheti region, in the Dumbadze family, plastic bags over the windows have already been replaced with Alutech's three-chamber metal-plastic doors and windows," Bliadze said.
Q. Which of your products are most in demand?
A. Currently metal-plastic with a special coating of anthracite is in high demand. It is a visual that is very similar to aluminum and at the same time is cheaper (compared to aluminium). In terms of items made of metal-plastic, we offer customers windows and doors with the visual of aluminium at almost half price. Overall, it can be said that aluminum and metal-plastic are equally in demand because every product has its own segment.
Q. How affordable is the price for your products?
A. Our products are designed for the middle and upper class. However, we try not to discourage other consumers. That is why we frequently make special offers and lower-priced metal-plastic products.
Q. How competitive is the market?
A. The competition is very high and that is why we never stop. We actively plan and implement PR campaigns. But our large stock and short waiting times often make us the most logical choice for customers.
We have modern and innovative approaches to our production, and our factories are equipped with the latest generation, 100 percent computerized systems, CNC centers, where human intervention is minimized in the production process. This ensures precision in the production process and prevents inaccuracies.
Q. What was the impact of the pandemic on the company?
A. Naturally, the pandemic had a negative impact on business, but now things are relatively better. The income of the population has decreased and consequently, the income of the company also decreased. We have come up with a lot of ways to get customers interested, including various promotions, we try not to increase prices at the expense of reducing profit margins and so on. However, we have not been able to return to the previous pace so far.
Q. How do you attract consumers?
A. 'Build a good reputation and it will work for you.' That's our motto. The second and no less important factor is credibility – taking our background into consideration consumers know that they will not come across 'surprises' in the working process. We are also active on social media and generally in the media – articles are often written about us.
Q. Congratulations on receiving the Golden Brand. Can you name the specific activities of 2020 that have brought you this award?
A. The social projects we are engaged in amy have played a major role. 2020 was active for us despite the pandemic challenges. We have tried to help many people, we equipped the Monk Andria Foundation Rehabilitation Center with stained glass. We have also implemented a project 'You will be warm in winter' for stray dogs and together with Zakaria Dolidze we have built many dog houses throughout western Georgia for stray dogs and provided them with food. Before that, we gave a car to Dolidze, a man who takes care of stray dogs on his own, in order to make his job easier. This is but a small list of important projects that we have implemented over the past four years.